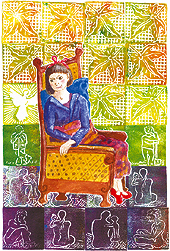 STORY-TELL LIB
Limited edition prints by Bella Peralta
Fine art reproductions of the 7 illustrations from the book Story-Tell Lib, limited to 100 numbered and copies of each image, signed by the artist. Giclée prints of the original multiple relief monotype print and ink illustrations, on 308gsm cotton rag watercolour paper.

Print size 483 x 329mm. Image area 397 x 270mm.
Mount size 587 x 423mm. Frame size 615 x 451 x 20mm.
Prices: Prints only £85.00 each (+£6.00 UK P&P)
Mounted prints £100.00 each (+£6.50 UK P&P)
Mounted and framed prints £140.00 each (+£15.00 UK P&P)
Prices include VAT. UK P&P includes Recorded Delivery.
CLICK ON IMAGES FOR LARGER VIEWS AND TITLES